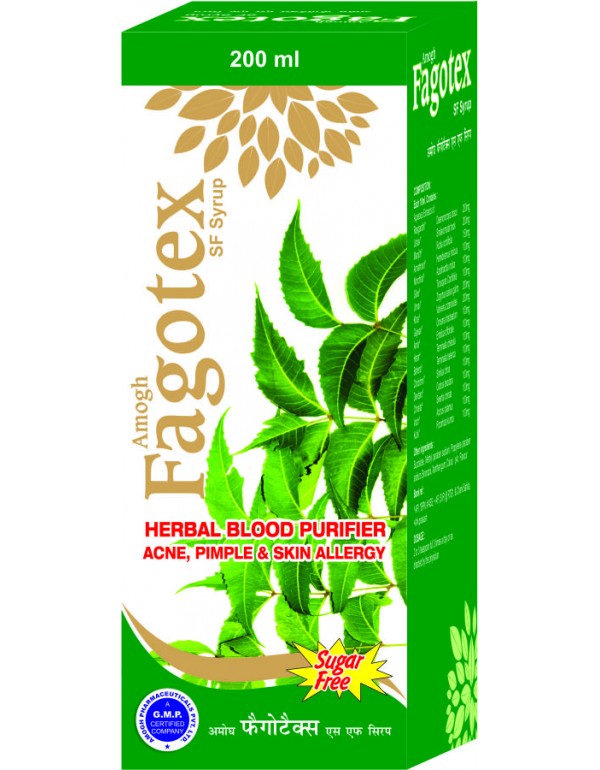 Tags: Amogh Fagotex SF Syrup
Amogh Fagotex SF Syrup
Amogh Fagotex SF SyrupThe scientific validated & trusted formula to manage skin allergies and infections...
Amogh Fagotex SF Syrup

The scientific validated & trusted formula to manage skin allergies and infections. Amogh Fagotex SF syrup is one of the best medicine for Skin Allergy, blood Purifier, acne and Pimple.


FUNCTIONS :-
Infections:-
Acts as anti-fungal because of neem & manjith for common skin pathogens like trichophyton, A.flavus & other fungi.

As anti-viral, Because of Nimbidin and Azadirachtin the active principles from Neem, on different virus especially on Variole pox virus.

Neem and Manjith showed marked improvement and cure in common skin conditions like Eczema, ring Worm inf. And Scabies.

Zinc with other anti-infective herbs helps fighting acne & pimples.




Al
lergy :-
Giloy and Neem , antagonises the effect of agonists such as 5-hydroxy tryptamine, histamine, bradykinin and prostaglandins E1 & E2 on the experimental subjects.
Immuno Modulator:-
Giloy, act as an immuno-modulator, thereby improves te cellular immune functions and promotes host cell defence mechanism against several microbes and parasites.

Fights against all types of skin infections

Eliminates skin infection induced by acne causing bacteria

Perfect medicine for bacterial, virul & fungal infections
Indications:-
ALIED INFLAMMATORY CONDITIONS OF SKIN
Key Herbs:-
Nimchhal

Manjith

Triphala

Devdaru

Chiraita

Ushava


Rashandhi



Available Pack :-
1x200 ml Pet Bottle
Dosage:-
Syrup:- Children 1-2 Tsf Twice A Day
Adults 2-3 tsf twice a day
Capsules : - Adults 1-2 Capsules twice a day
DIRECTIONS FOR USE:
A Physician Should Be Consulted Before Taking The Medicine to Prescribe The Best Dosage As Per The Requirement Of Condition.